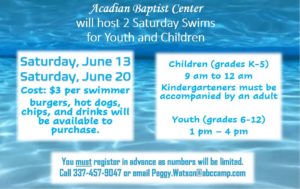 Acadian Baptist Center will host two Saturday swims for youth and children.
Saturday, June 13th
Saturday, June 20th

Children Swim (Grades K-5th):
9:00 AM-12:00 PM
Youth Swim (grades 6-12):
1:00 PM-4:00 PM
***You must call in advance to register as numbers allowed will be limited. You may call (337) 457-9047 or e-mail peggy.watson@abccamp.com.***
Cost: $3.00 per swimmer.
Food: Burgers, hotdogs, chips, and drinks available at extra cost.